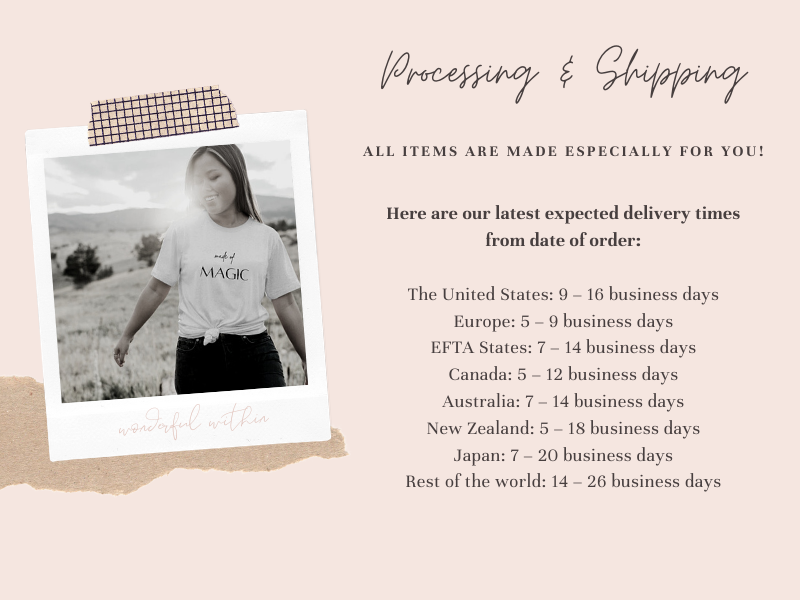 ---
Wonderful Within Delivers World-Wide
Free shipping on all orders to The United States and Europe.
Flat Rate $5.50 International shipping to EFTA States, Canada, Australia, New Zealand, Japan and the rest of the world.
Covid-19 has impacted fullment and shipping times, which is unfortunately out of our control.
Here are our latest expected delivery times
The United States: 9 – 16 business days
Europe: 5 – 9 business days
EFTA States: 7 – 14 business days
Canada: 5 – 12 business days
Australia: 7 – 14 business days
New Zealand: 5 – 18 business days
Japan: 7 – 20 business days
Rest of the world: 14 – 26 business days
As our stock is spread out over multiple warehouses, for orders with more than one item, your items may be sent separately.
Items shipped may be subject to import duties and taxes applicable to your country or country you are shipping to. Customers are solely responsible and liable for any duties, GST or VAT that are specific to their country. It is recommended that you contact your local customs office for further information
Currency
All prices on the website are in USD Currency
Please note that local banks may charge currency conversion fees that may vary between banks and countries.
Returns
Unwanted Items – We do not refund change-of-mind purchases or offer exchanges on orders. If you would like a different size or colour, please place a new order (for the original item, you might like to gift it or list it for sale)
Defective Items – Any claims for misprinted/damaged/defective items must be submitted within 4 weeks after the product has been received.
If you notice an issue on the products or anything else on the order, please submit contact us before returning your item by submiting a problem report. You can do this by emailing hello@wonderfulwithin.co explaining what the problem is and attaching an image.
We will replace and reship misprinted/damaged/defective items at our expense.
Wrong Address – If you provide an address that is considered insufficient by the courier, the shipment will be returned to our facility. You will be liable for reshipment costs once we have confirmed an updated address with you (if and as applicable).
Unclaimed – Shipments that go unclaimed are returned to our facility and you will be liable for the cost of a reshipment (if and as applicable).
Lost In Transit – For packages lost in transit, all claims must be submitted no later than 4 weeks after the estimated delivery date. Claims deemed an error on our part are covered at our expense.
Health & Hygiene Items – We do not accept returns of sealed goods, such as but not limited to face masks, which are not suitable for return due to health or hygiene reasons. Any returned orders with face masks won't be available for reshipping and will be disposed of.
PLEASE NOTE: IT IS THE CUSTOMER'S RESPONSIBILITY TO REVIEW ALL SHIPPING AND RETURNS POLICIES BEFORE PURCHASE AND THEREFORE AGREE TO THESE TERMS WHEN ORDERING FROM WONDERFUL WITHIN.